Open your senses! Come and taste our wines and visit our thousand-year-old cellar…
Domaine Armand David welcomes you all year round to the Domaine for a free tasting of all our wines.
Tasting / delivery information: Simply click on the bubbles on the map below.
For more details, you can contact us by email or by phone on 02 41 52 20 84.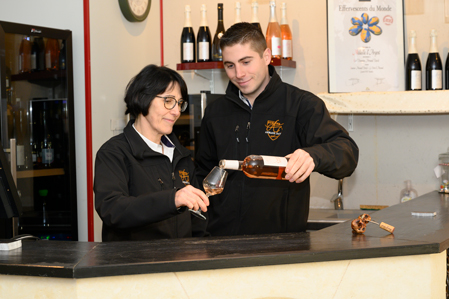 Pays de la Loire
Domaine Armand David
Messemé
49260 Le Vaudelnay
Angrie Jardin
49440 Angrie
Mme Bineau Martine
11 Rue de la Treille
49123 Champtocé-sur-Loire
M.Didier Pelé
La Cérenderie
49440 Freigné
M.Thierry Jousselin
1 Allée Honoré de Balzac
49620 La Pommeraye
Maelle et Julien Le Costumer
11 route de Carquefou Villa de Flore – Apt 403
44300 Nantes
M. Jérôme Moré
11 route de Francourt
72110 Torcé-en-Vallée
M. Joseph Charrier
La Mercerie
85390 Bazoges-en-Pareds
Mr Julien Donny
20 L'Eraudière
85300 Froidfond
Bretagne
M.Gilles Marie
Lotissement Le clos du Moulin
22130 Languenan
M. Alain Montulé
13 rue des Camélias
22700 Perros-Guirec
M.Hervé Scotet
19 Chemin de Keraudren
29000 Quimper
Mme Yolande Turquand
6 impasse Pierre de Coubertin
35320 Crevin
Marché de Noël
Complexe sportif de la Vigne
35235 Thorigné-Fouillard
Centre Val de Loire
M. Pascal Panneau
10 rue Jeanne Labourde
18100 Vierzon
M. Dominique et M. Daniel Morin
La Bréqueille
28300 Clévilliers
Chez M.Cyril Marais
14 impasse de l'Eguille
41170 Sargé-sur-Braye
M. Cédric Picard
10 Chemin de la Rue Sourde
45270 Mézière-en-Gâtinais
M. Philippe Durand
35 Nids
45310 Tournoisis
Normandie
Monsieur Maine
1 Le Costy Hamel
50680 Saint-Clair-sur-l'Elle
Nouvelle Aquitaine
Chez M.Christian Bombard
13 rue des Groyes
86240 Iteul